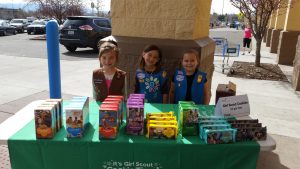 Gaggles of giggling girls slinging cookies- it's Girl Scout Cookie time!!
Girl Scouts do amazing things every day. They might build robots, fight bullying, and make their communities better in more ways than we can count. Girl Scouting builds girls of courage, confidence, and character, who make the world a better place. We're 2.7 million strong—1.9 million girls and 800,000 adults who believe girls can change the world one box of cookies at a time! I bumped into these fine ladies this weekend at the local Wally world and Troop #3 successfully hustled me for a box of Lemonades and Smores!
So keep an eye out for these sales entrepreneurs for the next few weeks and stock up! for more information on Girl Scouts of America and their cookie slinging skills go to:
Girl Scouts of the Sierra Nevada
Reno, NV 89503-4328
(775) 322-0642
(800) 222-5406 – Local Toll Free Phone
Email: info@gssn.org
Website: http://www.gssn.org
Facebook: http://facebook.com/girlscoutsofthesierranevada
Twitter: http://twitter.com/girlscoutssn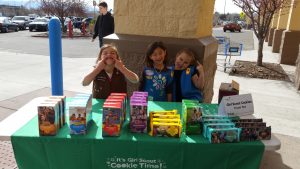 What's After This Life? Deidra Shares Her Thoughts.