The Local Lick is all about featuring a rock band from our listening area, Northern California/Northern Nevada, that is either signed or unsigned…if they come from our beautiful area and they give you an eargasm, then they deserve the recognition. This week from right here in Reno, we introduce you to local rock legends Weight of the Tide!
Two of the great unsung heroes of modern heavy music, Mark Moots and Jason Thomas have been churning out devastating riffs and songs of startling potency for the best part of two decades now. They first emerged from Reno, Nevada, in the late '90s with twisted groove machine December, cult favourites who hit a thrilling peak of genre-mincing savagery with the release of the seminal The Lament Configuration on Earache Records in 2002. Following that band's demise, guitarist Moots and drummer Thomas formed The Swamp Donkey, a looser and more expressive but no less crushing affair that set the underground ablaze with two stellar releases through Undergroove Records, including 2008's widely acclaimed The Trouble With Crusades.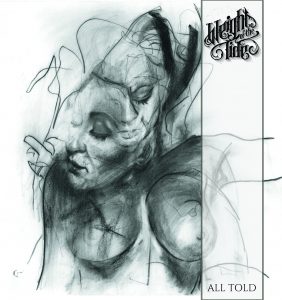 But it is the restless riff-writers' current band that seem most likely to earn these Nevada diehards the credit they have long deserved. Purveyors of an exhilarating and emotionally untamed blend of keenly melodic sludge metal, Weight Of The Tide make the kind of heavy, heart-rending music that only ever occurs when musicians are locked in some kind of magical, self-satiating chemistry. In 2017, the band are poised to release All Told, the majestic follow-up to 2015's deep and dark debut Epilogue, and to reveal the full potential of their creative harmony in the process.
"The band came together near the end of recording our first release," Mark explains. "Jason and I had been playing together in The Swamp Donkey, but the rest of the line-up was in a state of flux at least. We got Marcus [Mayhall, bass] from Jason's other band Vague Choir and Jes [Phipps, guitar] from Knightfall. We'd all known each other for years in the local scene. We started writing new material before Epilogue was even released. Jes is a prolific songwriter and a great singer. We all put our two cents into every idea and worked on making each song the best it could be. As luck would have it Jes and I have compatible voices as well! We saw a whole new world of possibilities for our brand of sludgy metal and just ran with it. Luckily it all worked out great and created a bigger, better version of Weight Of The Tide."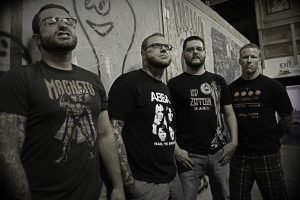 From the opening powerhouse riffing and insidious melodic thrust of its opening title track onwards, All Told is a sustained exercise in both catharsis and celebration. Drenched in melancholy but elegantly uplifting, the likes of The End Becomes You and Years Like Days are driven by colossal grooves and blessed with towering vocal harmonies from Mark Moots and fellow six-stringer Jes Phipps. With shades of everything from Crowbar and Pallbearer to the dark side of grunge and the polyrhythmic squall of the post-Meshuggah set, All Told offers a fervently idiosyncratic re-imagining of contemporary heaviness that speaks hazy but irresistible truths about human life in the 21st century.
"Jes and I didn't consult each other much when writing our lyrics," says Mark. "It was surprising how we both seemed to be writing on a similar theme. The music has a mood and I tried to write for that. I guess they're just about life and everything that comes with it. I think there's a mournful optimism in them, if that makes sense!"
A light within the darkness. Dismay transformed into euphoria. Weight Of The Tide tap into the visceral depths of the human condition while pointing to the faintest flicker of hope on the horizon. The songs on All Told exude a profound sense of honesty and humility, the invigorating rush of those overdriven guitars ensuring that every melody soars, every cry of pain resounds and the connection between artist and listener grows ever stronger. Sludge metal with soul? Just feel the weight…
"My previous experiences only colour my belief that one should play music that you believe in, that demands that you play it," says Mark. "To play the music that moves us without concern for fame, fortune or anything else. In the end that's all that truly matters. The honesty in the art. We shall have to see how this one is received. We've spent quite some time putting this together and it's a victory just seeing it released. As for what's next…who knows? We will continue on this path and see where it leads us."
Remember, support local live music, because your favorite band in the entire world was once a local band too!
Follow Kronik's favorite song EVER…this week! READ MORE HERE