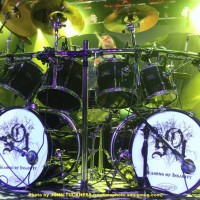 (photos courtesy of John Tuckness and Frank Ranney, two photography icons in the Reno local music scene)
When I first landed in Reno back in 2005,  downtown was BOOMING with live music! I flew in to audition for, and later become the lead singer of a local metal band called Darque Carnival after their previous vocalist had left to sing for the Pantera tribute band, Cowboys from Hell.
The second night that I was in town, the band members took me out to see what Reno had to offer. We started at Club Underground, where I first saw Obscured playing on stage. Then we went to Davidson's Distillery, right down the street, to see PUSHBoX (BTW Georgia…you've had every musician from this city's heart in your pocket for a LONG time) and Determined. Darque Carnival and Lingus even did a live show at Squeeze Play, an exotic dance club connected to The Sagebrush Brothel (gooooood times, or so I've been told as I can't remember much). There were a ton of venues back in the day that catered to live music, and plenty of bands of all genres to fill them (or in some cases make an honest attempt to fill them) with dedicated fans.
Then the venues started to close, and bands started to disappear. Those that weren't disappearing were struggling to stay afloat by patching the band together with new members, kind of like a super group, or they were playing every weekend in Reno at some of the same venues. Over-saturation is a word I hear commonly used.
On top of that,  venues were closing down for good, like the Oasis, or reopening as a different venue that no longer catered to all styles of local bands, like Club Underground.  I was in fear that our beloved music scene was crumbling before my eyes, and there was nothing any of us could do  about it.
Amazingly, there are a ton of bands still floating around Reno; some new, some old, and some making a glorious comeback. A few bands from our area find comfort in playing locally or even going on small tours through the west coast and beyond, while others are so serious about their craft that they put out big budget music videos, like this video of Reno's own The Novelists, "Morris and Estelle" directed by Nicholas Lam.
Some venues are still  holding strong to their love of our local talent, and there are some new venues that are taking the risk as well. Sometimes, in order to fix a problem, you have to be willing to address that there is one. Comparing then to now, it would appear we have a problem Reno. Or do we?
Thanks to attention from editors and articles on local sites, such as this one by John Tuckness, there appears to be a fighting chance for local bands to rise up once again, like a Phoenix from the ashes. Recording studios in Reno, such as Imirage Sound Lab and Stonehaven Studios, offer amazing deals to record local bands and give them the opportunity to take their music to the next level…and in a few cases, even get local radio play on local FM rock stations.
What are some venues that you remember from back in the day that no longer exist, and where were your favorite stomping grounds? What bands would you go watch, whether it was rain, snow, or shine? Where can people go now to watch live music, and what genre of music can you expect to see performed there? Who in the current music scene would you consider to have the next big hit?
With so much amazing talent in Northern Nevada, how would you currently rate our local  music scene, and what would YOU do to affect positive change?
Some links to help you discover local bands from our area:
A current schedule of gigs:
Local Podcasts that feature local bands: