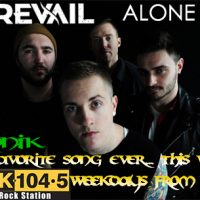 Time again for my Favorite Song EVER…this week, and for the last few weeks we have played some hard and heavy songs. Therefore, I think it's time for something a little on the softer side. So I lined up a newer band that started in 2014 in Michigan… I present to you the band "I Prevail" and their latest single off the album Lifelines  called "Alone".  It's a break-up ballad with some powerful vocal imagery,  most of the other singles off this album seem to be songs about relationships and range for soulful to "I'm over you". This is the first track I've heard that didn't have a harder chorus and driving double bass drums to bring a heavy energy.
I Prevail will be out on the Vans Warped Tour this summer and you will have a chance to see them in August on the 4th at Shoreline Amphitheater.
Carter Wilkinson Reno's Chicken Nugget Addict!
Follow us on FACEBOOK to stay up to date on all things ROCK 104.5