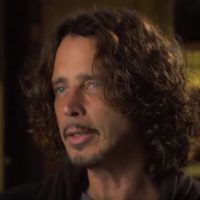 The singer passed away unexpectedly after a show late Wednesday night, May 17th in Detroit (VIDEO BELOW). According to ABC News, 'His rep called the death "sudden and unexpected." His family is working with the medical examiner to determine the cause of death and are asking for privacy.'
Last night onstage, Chris looked perfectly healthy:
Born Christopher John Boyle, Cornell grew up in Seattle, the middle sibling among five children.
He founded Soundgarden in 1984. After putting out a few EPs, they released the album Ultramega OK in 1988. It spun off the minor hit "Flower" and earned their first Grammy.
A year later, they became the first grunge band to sign with a major label, A&M, and put out Louder Than Love. 1994's Superunknown contained the mega-hit "Black Hole Sun" and went to number-one on the Billboard album chart. Soundgarden issued five albums before splitting in 1997, and one more in 2012 after reuniting.
Cornell went on to form Audioslave with the remaining members of Rage Against the Machine after Zach de la Rocha had left that group. Their first two albums both went platinum. They also reunited in 2017 for an anti-Donald Trump protest show.
Most recently, Cornell had recorded the solo track "The Promise" for the film of the same name and attended a screening of the movie at the Vatican.
Cornell leaves behind his second wife, Vicky Karayiannis, and three children.
Here's some listener shot footage from a solo show Chris did here in Reno in 2007 at the GSR Theater.
Check Out Kronik's Favorite Song EVER…this week!
SHARE YOUR CHRIS CORNELL MEMORY WITH US ON FACEBOOK!