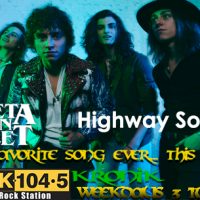 This is Greta Van Fleet… made up of the three young Kiszka brothers who were raised in small town in Michigan. Brought up around their families taste in music. Luckily it seems they were raised with all the right classic rockers influencing their sound. From Zepplin, the Beatles, and Stones… their 4 song EP "Black Smoke Rising" sounds so vintage and sonically out of this decade.  I'm happy to share with you the first single "Highway Tune" all this week as my favorite song ever… this week.
Dale Stewart of Seether talks about the new album "Poison the Parish"
Stay up to date on all things ROCK 104.5 by following us on facebook!