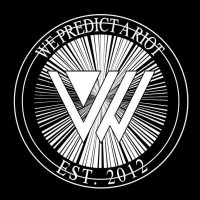 The Local Lick is all about featuring a rock band from our listening area, Northern California/Northern Nevada, that is either signed or unsigned…if they come from our beautiful area, they deserve the recognition. This week's Local Lick look like they are on their way to representing Carson City and Reno as the next big metal act to come from Northern Nevada, and they are GUARANTEED to melt (as Nicholas Cage would say) your faces…off! We Predict a Riot!!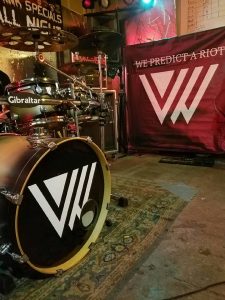 We Predict a Riot is a metal-core band originating from Carson City, Nevada. Incorporating heavy breakdowns and melodic choruses they draw a variety of music enthusiasts and fans. We Predict a Riot, founded in February of 2012 by guitarist Danny Harrington and drummer Eric Albright, set sights on writing music and finding alike musicians. In the extensive process the band has since added vocalists Richard Romero, C.J. Klein, Phil Wilcox on guitar and bassist Sammy Duenas. With engaging melodic lyrics and heavy break-downs, their music is enjoyed by a variety of different music fans. It's hard to not get into their songs, simply because the lyrics are from the heart, along with the catchy sound of the band. WPAR's influences are: Asking Alexandria, We Came as Romans, As I Lay Dying, and I The Breather, to name a few. Even with those bands as influences, they have a sound of their own that is totally original, and difficult to duplicate.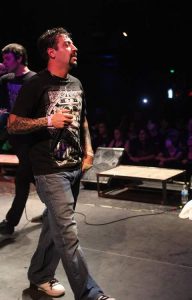 In the four years that We Predict a Riot has been a band they have had the opportunities to share the stage with several national touring acts such as Parkway Drive, Pierce The Veil, We Came As Romans, Atreyu, Asking Alexandria, Killswitch Engage, The Ghost Inside, Abandon All Ships, Volumes, and Texas in July. The band has headlined several local shows and traveled to northern and southern California on multiple different occasions, as well. They have recorded and released two E.P.'s, Ambitions (2013) and A World Unknown (2015). We Predict a Riot has been featured on over 30 radio stations in the U.S., South America, and Europe.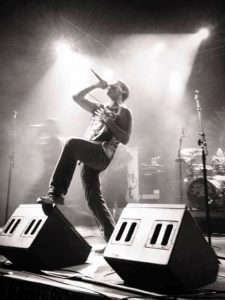 The band also makes it a point to bring an activist influence to its community. Every October since its formation in 2012, We Predict a Riot has participated in National Breast Cancer Awareness month. The cause is important to the band, whose members have had family members affected by varying forms of cancer. It has participated through changing its social media pages to pink and helping to spread an informed awareness of the disease to its fans. It also makes a point to be involved in charitable fundraisers specific to its community.
"We're more than willing to help out," Harrington says. "There's a girl in Carson [City] that got in a quad accident, so we raffled off a bunch of our stuff to help out [with medical bills], like merch and our new EP."
Eventually, they will be doing what they love to do full time, sharing their music with different cities around the country, and around the world! These 6 guys from Carson City, NV have ambitions that surpass the stars, and no one will stand in their way. The expectations that everyone has for this band will always be exceeded.
The hard work that each band member has put into We Predict a Riot, and the love that they have for the art of music, shows every time they get on stage. In addition, their outpouring of appreciation to their fans is another reason why they are so likable. We Predict a Riot, being the humble band that they are, always remember that without their fans they would not be where they are today. It's hard to not feel like you know them personally, even if all you did was have a picture taken with them.
Members are:
Vocals/Cleans: C.J. Klein
Vocals: Richard Romero
Guitar: Danny Harrington
Guitar: Phillip Wilcox
Drums: Eric Albright
Bass: Sammy Duenas
They have a big show coming up this Sunday, June 18 at Jub Jubs with Memphis May Fire and Bless the Fall!! Details in the flyer below (share with your friends!)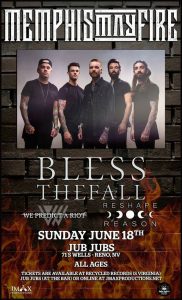 Links to follow We Predict a Riot and check out some more of their songs:
To book We Predict a Riot, contact:
Remember, support local live music, because your favorite band in the entire world was once a local band too!
Deidra reminds us to not stop and smell ALL the flowers… (READ MORE HERE)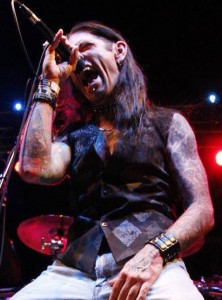 Shane Whitecloud is On Air every Mon-Fri 7pm-Midnight & Sat-Sun 6pm-10pm on Rock 104.5