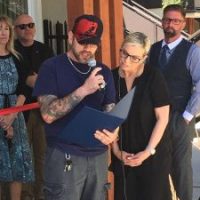 With all the new veteran resources popping up around Reno and Sparks alone, we are certainly embracing our veterans, finally. I've personally been involved with several veteran projects, and as a veteran myself, I'm proud of the accomplishments of our city officials, donating organizations, and the general public for their love, compassion, and support.
Just a little back story about why I'm so passionate about veteran causes in our state:
I have been working my days at the Veterans Resource Centers of America, at our Northern Nevada branch, for the last 5 years. Through our Homeless Prevention and Rapid Rehousing program, we provide supportive services to very low-income Veteran families living in or transitioning to permanent housing through the Supportive Services for Veteran Families (SSVF) grant. VRC provides eligible Veteran families with outreach, case management, and assistance in obtaining VA and other mainstream benefits that promote housing stability and community integration.
VRC provides dual diagnosis mental health services including 57 beds for behavioral health, social recovery services at three Behavioral Health Centers in Northern California and one in Reno, Nevada. Veterans Resource Centers of America has 52 units of permanent supportive housing under construction and 200 units planned to assist veterans returning from service transition successfully to civilian life. Linked to case management and supportive services, permanent supportive housing is a proven solution to veterans' homelessness, a problem that affects men and women who have been recently discharged as well as those who served decades ago.
Internationally, Veterans Resource Centers of America commitment to service has enabled us to take our humanitarian efforts to other parts of the world. In 1997 VRC opened a health clinic in North Vietnam. In 2002, partnering with the East Meets West Foundation, VRC was able to build a school. The new facility replaced a dilapidated and substandard school building and now provides safe and sanitary classrooms for nearly 100 children.
Yesterday, I was honored to be a part of the celebration welcoming a new development known as Hillside Meadows, which is a 44-unit apartment complex that will house low income veterans at an affordable rate. They even have 9 ADA compliant units which are for disabled veterans with wheelchairs. This will allow us to successfully house more of our homeless veterans successfully, and assist them with becoming independent, sustainable members of society once again in the safety of their own apartment. The rooms are HUGE! I toured the facility after we did the ribbon cutting ceremony, and I was amazed at all the beautiful appliances and amenities. This complex was also built as energy efficient, so veterans won't have to worry about a large electric bill either.
The apartments are for low income veterans only, which means if you make over $18,000 annually at this time, you won't qualify. However, if you make less than $1,500/month, this could be your new home. What this means is that any of our veterans who collect just VA Disability pay, with no dependents, if they are 70% service connected or less, they could qualify financially.
Next month, I'll be attending the groundbreaking for a new Veteran Home that will be built on Galletti Rd. From what I understand, this will be another low income housing for veterans, however this one will be more clinical-based. I'll let you know more when I have the information.
Until then, keep moving forward for our veterans, and thank you for your support!!
FOLLOW US ON FACEBOOK AND TWITTER!