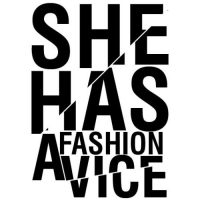 The Local Lick is all about featuring a rock band from our listening area, Northern California/Northern Nevada, that is either signed or unsigned…if they come from our beautiful area, they deserve the recognition. This week's Local Lick is another metal foundation from Reno with big dreams who continue to amaze me with their harmonies and unity behind the music, She Has a Fashion Vice!!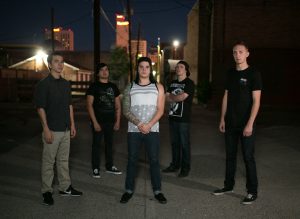 For the past two years, She Has a Fashion Vice has been building a name for themselves and developing their sound, releasing their EP entitled "A White Dress To Match Her White Eyes" in February of 2009. A year later, the band took it upon themselves to enter the studio with Cory Spotts at BLUElight Audio (Greeley Estates, The Word Alive, Bless the Fall, etc.). "We knew that we had to do something to help boost us to the next level", guitarist Chris Yancey explains. "So many bands are out there trying to make it, they've all got good stuff, it's all about who's willing to take that next step." Their debut full length Stop Talking, Start Sweating will be released online and digitally August 31st with physical distribution to be set for a later date. "The title was a real from the heart message for us." Yancey commented. "Stop Talking, Start Sweating is about becoming the change you want to see in the world. So many people talk about what they want, but are unwilling to take the steps and do the work to make it happen. This album was us as a band putting every ounce of ourselves into our music to manifest the change we wanted to see." After locking in the new album, the band sent four songs to be remastered by Drew Fulk at Think Sound Studios (To Speak of Wolves, Advent, Akissforjersey, etc.) to complete their album.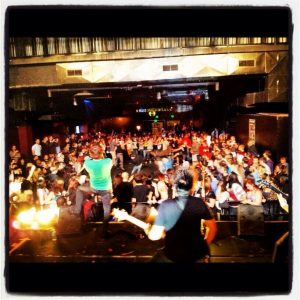 "We've battled through financial problems, the loss of our van and trailer for touring, so many hurdles have been placed in front of us." Yancey explains. "That's what made finishing this album and having it released a milestone for us. Getting to this point as a band is something we've been working toward since we started in 2008 and this album is something we're very proud of." With their energetic and in your face live show, She Has a Fashion Vice intends to show the listening and viewing public just how much this music means to them. "For us, these songs are genuine windows into who we are." Who is She Has a Fashion Vice exactly? "We get a lot of questions about our name" singer Nate Garrison adds. "Our name is intended to be a satire of an unfortunate characteristic of our society, the fact that people more and more choose to define themselves by what they own, so caught up in thinking that they need to look, dress, and act a certain way in order to be accepted by society, and in doing so, have forgotten what really makes them who they are. "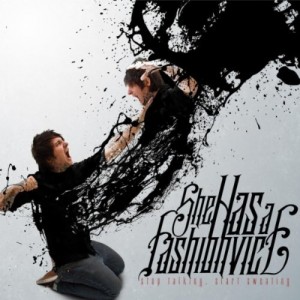 With relentless dedication and a constant urge to improve themselves, She Has a Fashion Vice will never remain stagnant. "We spend a lot of our nights in four hour long rehearsals." Garrison added. "The five of us confine ourselves up in a what's essentially a concrete block and work on not only developing our songs but perfecting our live show. Generally when we're home, it's about five to six nights a week. We're never going to grow as musicians or together as a band unless we're constantly working to improve." The band has shared the stage with Underoath, Blessthefall, Between The Buried And Me, Attack Attack, Evergreen Terrace, For The Fallen Dreams, Red Jumpsuit Apparatus, Of Machines, and countless others.
HOME TOWN:
Reno Nevada
GROUP/BAND MEMBERS:
Nate Garrison, Tim Simes, Chris Yancey, Alex Hagemeister, Andrew Sherbondy
INFLUENCES:
lately, Drop Dead Gorgeous, Finch, Sky Eats Airplane, Thursday, Bring Me The Horizon, Thrice, Secret and Whisper, Greeley Estates, Story of the Year, Attack Attack!, Emery, Norma Jean, Memphis May Fire, and the darkness 😉
They have a big reunion show coming up this Saturday, June 24 at Cargo Concert Hall in Reno!! Details in the flyer below (share with your friends!)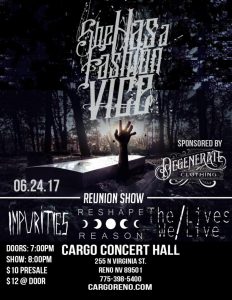 Links to follow We Predict a Riot and check out some more of their songs:
Remember, support local live music, because your favorite band in the entire world was once a local band too!
Learn more about Kronik's "Favorite song EVER…this week" (READ MORE HERE)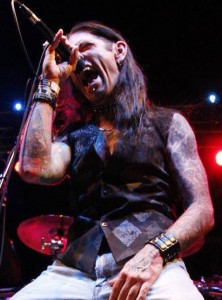 Shane Whitecloud is On Air every Mon-Fri 7pm-Midnight & Sat-Sun 6pm-10pm on Rock 104.5