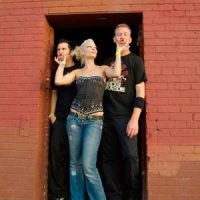 The Local Lick is all about featuring a rock band from our listening area, Northern California/Northern Nevada, that is either signed or unsigned…if they come from our beautiful area, they deserve the recognition. This week's Local Lick is one that goes back as long as I've been playing in this city…my not so secret crush, Georgia Maestro, and the 3-piece known as PUSHBoX!

So why PUSHBoX? Well…besides the fact that they sound amazing, there is this…

Oh sweet mother of GAWD! Ahem, oops sorry about that (NOT).
Oh, and there's these guys too…
According to their Facebook page: "PUSHBoX is a 3 piece Alternative Rock, Electro, Experimentalist band. Gorgeous heart wrenching vocals with melodic and rhythmic bass and drum grooves." But they are SO much more than that!
Georgia Mowers of PUSHBoX sings with bold determination and passion that mesmerizes audiences. "I love it," she says, "I come from a family of show offs," she says.
It wasn't always that way. This fearless singing came to Mowers after she had an audition for music legend James Brown.
"I was so nervous that afterward I said I would never allow myself to be intimidated again," the blonde dynamo says.
Brown offered Mowers a job as a backup singer, but, in an audacious career move, Mowers turned him down to sing on her own.
Pushbox is a Reno original: expressive with a wide-ranging sound, hard to pin down but in hot pursuit of a chance to be heard. The three-piece band is led by Mowers, the singer, songwriter and lead guitarist, with Mike Grover on bass and Pat Williams on drums.
Despite Mowers' confidence as an onstage frontwoman, the rest of the band is still protective of her. "I get a little pissed when guys come up to give Georgia pointers on the guitar," says drummer Williams. "I don't think they would say shit to her if she was a guy."
The band's sound has evolved during its years together. Williams describes it now as "No Doubt meets Afghan Whigs," but the band cites an eclectic range of influences, from Portishead to Tool to Ben Harper. Considering the combination of such varied styles, the fact that the music is at all coherent is a testament to the members' determination and talent.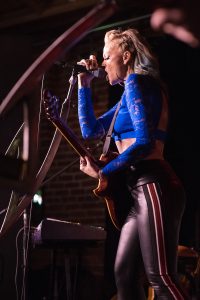 On the whole, the music is aggressive: hard bass-lines matched in rhythm by the drums, while the electric guitar and vocals slap the listener in the face.
The band's sound varies from song to song as they experiment with new rhythms to add zest to the music. Song lyrics range from the defiant and independent "Go Romeo" to the gloomy self-doubt of "I Use to Be."The members of PUSHBoX manage their own business.
Each band member had a life based in music long before joining forces in PUSHBoX. Williams was the drummer for Redcel, a Reno hardcore band. Grover is a veteran musician, having played in local bands, like Seven and Farmer's Tan, since the 1980s. This is Mower's first band, though she has a childhood background in opera and piano-playing and used to sing competitively in choir.
"Everything is inspiration," says Mowers. "I write about life and just about everyone that I meet … though it's with a what-the-hell kind of attitude."
While Mowers is the driving force behind the songs, each member of the group contributes creativity. Mowers compares the songwriting process to "painting with three hands." This synergy in the music is tangible onstage, as each member plays off the others' sound.
"I start to play a song," she says, "and they both know right where I want to go with it."
Links to follow PUSHBoX and check out some more of their songs:
Remember, support local live music, because your favorite band in the entire world was once a local band too!
Is Ivan leaving Five Finger Death Punch?! Kronik says…(READ MORE HERE)