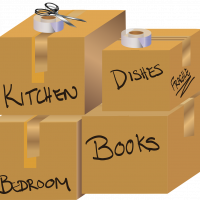 This is the second time I've had the daunting job of looking for an apartment. The first time I gave up and thought I was going to live in the dorms, which is not glamorous AT ALL, but was saved when my current roommate found a place last minute. 
This time around, I stressed myself out for at least four months trying to find a place. It started with a studio (which I couldn't even afford even if I wanted), then a four-bed house, then down to a three-bed, then back to four and so on… Long story short, I told my roommate, forget about who might be the fourth roommate, we're three. That's it. 
So I started looking for places in March. The first few apartments were way out of our price range (false advertising on the apartment search websites). My two future roommates were probably thinking that I wanted to live in luxury. FALSE. I just wanted somewhere I can afford and maybe a pool. Is that too hard? When there's a housing crisis in Reno, yes it is. 
I got "no's" for about four months every time we would tour a place. One apartment, which I'm grateful for them being honest and not wasting anyone's time, told me, "I'm not going to bother telling you prices because all our three-beds are occupied by families who've let us know they are not going anywhere until their kids graduate." Perfect, I'll cross you off my list. 
If I had known that every apartment complex in Reno/Sparks were upgrading their units at the same time, I'd still be searching. At complexes where I was certain me and my roommates were able to live in because of budget, upgraded units were about $200-$500 more a month and the only option. Of all the places we toured, about eighty-percent of them were raising prices because of upgrades. 
So long story short, we found a place by accident, got approved and signed the lease to move in two weeks later. The lessons I learned from this escapade, don't start four months out of a move-in date (unless it's for a house which I'll probably be just as obsessive over when that bridge presents itself). Start browsing the web two-months out of move-in date, tour six weeks out, single down to a couple options four weeks out, finalize ASAP after that. 
Or… toss all of the stuff mentioned before and wing it in the last couple weeks before your lease is up and pray to the apartment gods that you'll find a place. I didn't pray either time and last minute apartments opened up. 
This is your friendly, radio-world, broke-ass college student reporting on life. 
 Have you read my blog about Blue October's Justin Furstenfeld?