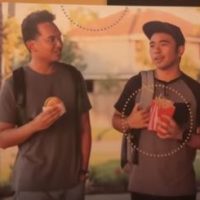 I'm a big fan of the practical joke. Back in the days when the mighty Rock 104.5 was housed in the adobe mud palace of love up on Sutro and North McCarran, we had joke wars all the time. In fact, check out the video below to see how one employee got way even with me after I 'patchouli bombed' his office for a month straight! (BTW- wanna know about the patchouli bomb prank, ask me when you see me out and about- it was CLASSIC!).
Anyway, being a jokester I found the amount of work these pranksters put into punking a McDonalds to be award worthy. You can get the background on the prank via ABC 13 Houston.
First- here's my 'get even' video from several April Fool's days ago:
Now, the McDonald's prank video:
TALK BACK WITH US ON FACEBOOK!