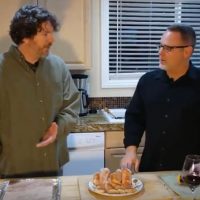 What would you do in order to make up to $1000 a day, making and eating pizza in the comfort of your own home? Well, make a video and apply, of course.
According to pizza oven manufacturer OONI, the company is looking for pizza lovers and home chefs to be spokespersons for their brand. They'll even pay you for it, $300 to $1000 each day depending on your skill. I'm not sure if that means video or pizza making skill, but nonetheless 'if it's free, it's for me' so I figured what the hell do I have to lose? At the least I'll get no response from my submission and at the best, a free state-of-the-art pizza oven which claims to cook your creation in in about 60 seconds! They'll even help you with your Italian masterpieces along the way, from the dough to the toppings with recipe suggestions! 
They asked me to send in a :60 second video, and since I've got my own YouTube channel (and because today 9-2-18 is National Pepperoni Pizza Day), I simply downloaded some of my more popular food videos, sliced them up and made a quick example reel which you can see below.
Wanna submit? Just check the link above or send your video to: jobs@ooni.com
Good luck pizza people!
TALK BACK WITH US ON FACEBOOK!