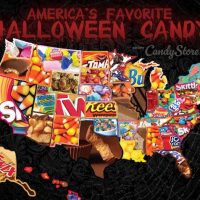 Halloween is right around the corner and the folks at Candystore.com figured we all need to know the most popular candy, by state, we'll be handing out this year!
Overall, the most popular candy in the country (and who can blame us) is Skittles!
Getting granular, the top candy here in Nevada is Candy Corn. We aren't alone as six other states also share that as the #1 candy to hand out here in 2018 including Idaho, Iowa and Delaware!
Skittles are next with five states: Pennsylvania, Hawaii, New Jersey, South Carolina, and California.
Then, enter the Reece's Peanut Butter Cups as they top the list in Texas, Kansas, Oregon, and Wyoming.
Finally, there are some odd ones like Delaware with Life Savers, Montana and Oklahoma with Dubble Bubble Gum, and Washington and Nebraska, where people can't get enough salt water taffy.
Source: CandyStore.com.
TALK BACK WITH US ON FACEBOOK!
LISTEN TO ZACH MYERS FROM SHINEDOWN ON JAVE PATTERSON ON DEMAND!