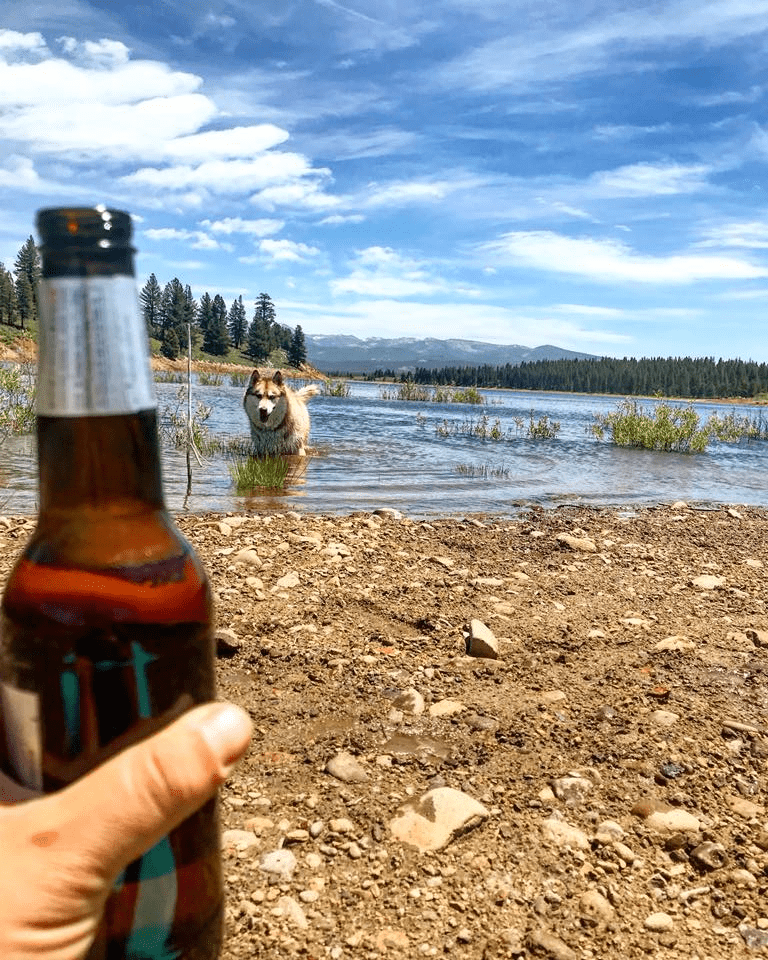 Prosser Creek Reservoir: (Roughly 50 min outside of Reno)

Because this stop is after Boca and Stampede Reservoir, I found it to be a lot more quiet and relaxing, since most people seem to just stop at those first two rather than continuing on.

Its Right off of CA-89, so it is very easy to find. When visiting this quiet little area, I chose to stop at the Lakeside campground. It was cheap (about $10 for the night) and easy to get to, and had a few sites that were "first come first serve" only, so I wouldn't have to worry about it being full with reservations, as I am kind of a spur of the moment adventurer. Although this doesn't have a day pass option, there is another spot that you can buy a day pass for just a little further on from this site.

The water here was great, nice and clean, however, some spots in the water are muddier than I usually prefer. There were a lot of places to hike around the reservoir and explore. The dog and I like to find a cozy secluded place to hang out by the water to play and relax for the day, which there were plenty of places for that, such as this one.

The Emerald Pools: (About 1hr and 15min outside of Reno)

I'm sure that many of you have been to the Emerald Pools out in the Tahoe National Forest before, but if you are looking for a more scenic and secluded spot that isn't busy with people, I recommend venturing off from the main spot that everyone seems to gather at closer to the road.  However, just like everything else in life, the better and more prime option, is definitely not the easiest.  Be prepared to do a hike with maybe a little bit of climbing, so I would not recommend this location as much for children or pets, as its not exactly the easiest terrain.  In my opinion, all the best spots require going off the trail and exploring. To find this location, we just parked on the side of the dirt road, got out, started venturing off into the woods towards the river, and followed it along until we found a spot we liked. Bring some lunch and spend the day here, swimming and taking in all the natural beauty around you.

Silver Lake/Caples Lake: (About 1hr and 30min From Reno)

This one is great because you can hit up two spots in one trip, not to mention the drive through the Eldorado National Forest is always a beautiful sight.  I made this a two day trip, but it could easily be made a one day trip. I started by driving past Caples Lake and 25 minutes further to Silver Lake in Kit Carson, as pictured  Below.


This is a perfect trip for those of you that have an SUP/Canoe/Kayak, as Silver Lake has a neat island in the middle of it that you can paddle out to and hang out.  I'd recommend bringing a hammock and other things to take with you to chill out on the island for a while, since its a pretty cool hang out spot.

After soaking in all the beauty that Silver Lakes has to offer, head back in the direction you came and stop at Caples Lake. They have shore-side spots to hang out and grill for lunch as well as launch spots for your water crafts.

 Horsetail Falls: (About 1 hour and 30 min from Reno)

This one is definitely one of my favorites. When coming in from Reno, you can see this gigantic waterfall spilling out from the top of the mountain tops. At first I almost didn't believe that it was water and thought it might still be snow, because it was so massive.  Right off of US-50 W you will see the sign for Pyramid Creek, and a little parking lot that you can pay to park in. From there you can follow the trail into the forest following pyramid creek.  You can really adventure off in a lot of different directions, but when I went, I chose to follow along mostly with the River as it has tons of neat cascades, falls, and pooled up areas to check out. The trail starts to get a little more rugged and tough to follow the closer you get to the waterfall. The trail goes all the way to it, and it appears that you can even get all the way to the top where there is a small lake that the waterfall flows out of. Definitely a good spot to set for a full day from early morning to evening so that you can hike around and see everything that this area has to offer.

 The Yuba River: (Roughly 1 hour and 50 min outside of Reno)

Really anywhere on the Yuba River seems to be a pretty awesome sight to see.  But I thoroughly enjoyed this location.  Just drive out through a cute little town called Downieville, and just outside of the town we saw a trail (right next to a bear sign), pulled over, and hiked out to the river.  This was a much less aggressive hike than when going out to the emerald pools.  This was a fun spot for spending the day swimming around and playing in the water.
TALK BACK WITH US ON FACEBOOK!