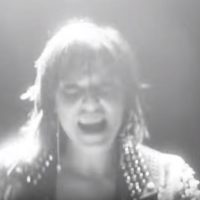 Halestorm, In This Moment and New Year's Day put on an amazing show in front of a sold-out show in Reno at the Grand Theater inside the GSR August 21st and Rock 104.5 was there for the excitement! 
The 'Warped Tour-style' band New Year's Day kicked off the evening with an inspired set at 7 p.m. At 8 the stunning Maria Brink and her band of 'dirty men' in In This Moment proceeded to pummel the senses with an hour and fifteen minute theatrical set, complete with multiple wardrobe changes and spooky video vignettes as she visually seduced the audience.
Halestorm wrapped up the night with their stripped down, raw, in-your-face performance which ended with the spirited sing-along 'Here's To Us'. Frontwoman Lzzy Hale proved once again why she is the preeminent female rock voice for this generation; a vocal Olympian of sorts!  
If you were there, see if you can spot yourself in one of the pix!
TALK BACK WITH US ON FACEBOOK!