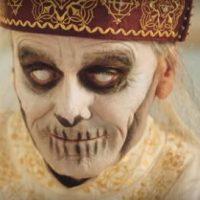 Could this be perhaps the most entertaining way to market a band?
The satanic-jokesters in Ghost have really gone to new lengths to do everything from announce new music to reveal new tour dates via the power of video! For those who spook easily and don't totally get the humor of Ghost, hopefully the following videos will, at the least put a grin on your face. At the best, they really help drive home the point that these guys love to make parody of the whole 'satanic rock' movement which some may argue started with Black Sabbath in the early 70's.
Instead of making you jump through hoops searching for each video and the timeline of release (yes, there is a story line here), we've done the heavy lifting for you with the chronologically listed videos below.
…now try not to laugh!
Chapter 1:
Chapter 2:
Chapter 3:
Chapter 4:
Chapter 5:
TALK BACK WITH US ON FACEBOOK!